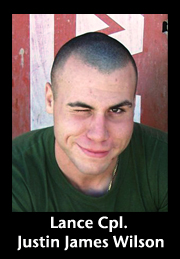 U.S. Marine Lance Corporal Justin James "JJ" Wilson, 24, of Palm City, FL, assigned to 3rd Battalion, 10th Marine Regiment, 2nd Marine Division, II Marine Expeditionary Force, based in Camp Lejeune, NC, was killed on March 22, 2010, while supporting combat operations in Helmand province, Afghanistan.

He is survived by his wife Hannah McVeigh, parents Lance and Frances, brother Christopher, and sister Jamie-Ella.

First posted April 25 2012
"J.J"
1,2,3….10
Squat Clean (185/125)
10,9,8….1
Parralette HSPU